The Lakes Bathroom Remodeling
Your bathroom is an essential part of your home. Investing in it can make it more comfortable and functional, along with raising the market value of your house should you ever want to sell it.
If you purchased your home second-hand or if your current bathroom setup is no longer working well for the way you live, you could benefit from a The Lakes bathroom remodeling service to spruce things up.
Bath Planet is a trusted The Lakes, NV bathroom remodeling company specializing in providing quality and speedy bathroom remodeling services. Remodeling will help your bathrooms stay up-to-date, functional, and become easier to clean and use. If we handle your project, your bathroom will be transformed into high-functioning and exquisite refuge.
We tailor our service to suit any budget and requirement while still guaranteeing world-class service and durable amenities. Let our team know what you need, and we'll remodel your bathrooms to the bath space of your dreams in just a few days.
Call Bath Planet at (702) 829-5598 for your Free Consultation with a Bathroom Remodeling Expert!
Three Day Bath & Shower Renovation
Bath Planet prides itself on being able to work quickly and efficiently on any bathroom project we handle. From small guest bathrooms to luxurious en suites, our renovation takes just three days so that you can get the full use of your bathrooms immediately after we complete your project.

Whether you have a clear idea of how you want your bathrooms to look and function or are in search of ideas, we have a huge catalog of materials, designs, and concepts you can choose from. We also provide you with anything you need, from bathtub faucets to bathroom tile to shower doors, to spruce up your new bathroom.
We have a wide array of accessibility features from wakl-in tubs to no-barrier shower pans to cater to family members with mobility issues.
Our clients also love our very affordable rates alongside our top-notch service. All the materials we use come with the protections to help it stay beautiful and maintenance-free for a long time.
Shower or Bath Conversion
Shower or bathtub conversions can take weeks or even months if the wrong company is handling the project for you.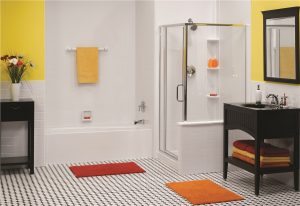 The experts at Bath Planet will complete your shower-to-bath or bath-to-shower conversion in three days. Our bathroom remodeling specialists are trained to handle any bathroom project imaginable, allowing the team to finish your project in record time without cutting corners on quality. When we are done, your newly converted shower or bath is ready to go!
Why settle for bathroom conversions that seem to take forever and get seriously expensive when they can be done quickly for a fraction of the cost? Let our team at Bath Planet tackle your project, and you'll be surprised at how quickly we can finish your conversion!
Walk-in Tubs & Accessibility Options
If you or one of your family members require accessibility assistance, we can remodel your bathrooms to work well by installing walk-in tubs. These tubs allow you to get in and out safely and easily, and include special features like water jets that enable you to relax and unwind while you are in the tub.
If your bathroom requires other accessibility options, we can add flip-up seats, shower bars, and other features you may need.
We offer a full array of customization options for your bathroom to make it safer and more comfortable for everyone. Come by our showroom to see our walk-in tub display.
Your Bathroom Remodel Partner
When it comes to The Lakes bathroom remodeling projects, we at Bath Planet are fast efficient and affordable.

Since we first made our services available in the area, our customers have been impressed with how we take our job seriously and guarantee that each project is done perfectly to the client's standards and requirements. We use only the best materials, made of low-maintenance, high-quality acrylic, to give you some peace of mind as you and your family use your new bathtub or shower.
You can also trust us to finish the project perfectly and in a short amount of time. Our team is trained and equipped with the best tools to make the work precise and efficient. We even take pride in cleaning up after ourselves so that when we leave, you can enjoy your new dream bathroom in peace.
Let's Talk – Free Expert Consultation
The Lakes bathroom remodeling shouldn't give you stress if you are partnered with a service provider that knows what's perfect for your project. At Bath Planet, you can be assured that your bathrooms will look great and function well without costing you a lot of money.
If you don't need a full bathroom remodeling, we also offer bathroom upgrades, conversions, and renovations. Call today to get started on a fresh new bathroom!
Call Bath Planet at (702) 829-5598 for your Free Consultation with a Bathroom Remodeling Expert!