The Lakes Shower Replacement
Showers are the usual setup for many bathrooms these days because they are more efficient than baths. However, if your shower is damaged, moldy, or broken, it can affect your entire schedule and everyone in your home. When this happens, our The Lakes shower replacement service can help you out immediately.
Bath Planet is known for making bathroom renovation projects fun, stress-free and affordable for anyone. We have all the options you can consider for your bathroom, no matter what style, design, or layout it has. We offer our services at affordable rates so you can get the luxurious bathroom you want for your home. We even do upgrades and add additional features in your bathrooms to make them more functional for all.
Let our team guide you through the entire project and show you how easy it is to get your showers replaced to fit your bathroom layout!
Call Bath Planet at (702) 829-5598 for your Free Consultation with a Shower Replacement Expert!
Fast, Affordable Shower Replacement
Here in The Lakes, Bath Planet is lauded for having the best team that can handle shower replacement projects quickly and efficiently at an affordable price. We only take three days for any project we take on, and every single element is checked for quality so it will last for years.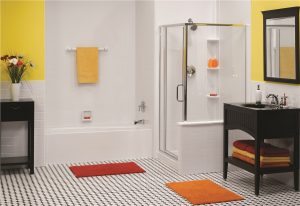 We offer shower replacements for any type and size of bathroom you may have in your home. We can even do bath-to-shower and shower-to-bath conversions. Bath Planet has the team, materials, and equipment ready to do the task for you. Once we are done, you will see the vast improvement in the look and function of your shower area!
We are always committed to making any bathroom renovation project stress-free for our clients. Whether you want to replace your shower or do a total bathroom remodel, we have the best quality showers, baths, and bathroom tile at very affordable prices. If you are undecided, our team can answer your concerns and recommend the best pieces to use for your bathroom project.
Functional Shower Conversions
Our The Lakes shower replacement service is efficient because our team makes sure that your ideal bathroom design and current layout are considered ahead of time. Bath Planet also checks what kind of lifestyle you and your family members have to make the shower area easy to use for everyone.
Our team can work on any bathroom space and requirements to give every client their perfect bathroom setup. Whether you want to sub old your old shower for a new, more luxurious style or convert your current bathtub setup into a shower, our installation professionals can handle it easily. We even finish the project in just three days so you can enjoy your new bathroom immediately!
Your safety is paramount, which is why we consider every single detail when we design your bathroom layout. Our showers and bathtubs are also made of high-quality material that is durable and easy to maintain, helping prevent the buildup of mold or mildew. We can also do shower conversions that will provide better accessibility for clients who have mobility issues or injuries.
Call Bath Planet at (702) 829-5598 for your Free Consultation with a Shower Replacement Expert!
Accessible Shower Updates
We don't just replace your showers with new units; we also make sure that everyone in your household can use these showers efficiently. We can replace your current shower with a new one that is more easy to use for people with disabilities or special needs, allowing them to use the shower easily and comfortably.
We have low- and no-barrier shower pans and wide-entrance showers that are easy to enter for those with mobility issues and even wheelchair users. We can also include assisted bathing features if your family members are undergoing physical therapy or require assistance as they bathe.
If a standup shower is too much, we can install benches and hand-held shower heads, or even walk-in tubs with hi-tech features like water jets and massaging options to give you that spa-like experience at home.
Let's Talk Now – Free Consultation
If you want your bathroom to have your dream shower setup, you should call the company that offers the best and affordable The Lakes shower replacement services in the market.
Bath Planet is committed to providing each client with functional and durable shower setups that will make your shower experience perfect every day!
Call Bath Planet at (702) 829-5598 for your Free Consultation with a Shower Replacement Expert!