Paradise Shower Installation
Showers are very efficient to use, especially if you have a busy or active lifestyle and want a simple way to relax and bathe daily. They're also perfect for families with small kids or people with mobility issues.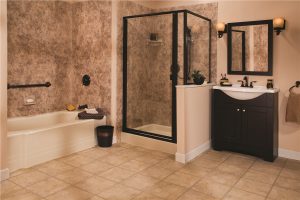 Our Paradise, NV shower installation service at Bath Planet is very efficient in getting clients the perfect shower setup for their home. Our Paradise shower installation specialists will assess your bathroom space, determine the possible layout for your new shower, and then consult with you about the needs of everyone in your household to design the perfect shower setup for you. Once the design is approved, our team can install your new shower in just three days.
We offer a free consultation before our team gets to work on your project, and our prices are among the most affordable in Paradise. If you have any inquiries about our shower installation services, we'll be happy to answer them for you!
Call Bath Planet at (702) 829-5598 for your Free Consultation with a Shower Installation Expert!
Wide Shower Entrance
If you have family members who cannot get into the shower area easily because of mobility issues, they can benefit from wide-entrance showers that have low or no barriers.
These shower entrances allow anyone to get in and out of the shower space even if they use a wheelchair. At Bath Planet, we check your shower space and design the shower entrance accordingly to fit everyone's requirements. We can install a shower pan large enough so that a caregiver also can enter the shower to help those who need it, or add additional features like benches and hand-held shower heads to help those with mobility problems enjoy their shower experience without further assistance.
No matter what you need for your shower space, our team can integrate all the elements necessary to make it functional, accessible, and safe for everyone.
Handheld Shower Head
Does your shower setup have a bench or bathtub included in it? If that's a yes, you may want a showerhead that you can use as you use while seated. Bath Planet can install handheld showerheads in easy-to-reach areas so you can enjoy your bath without too much hassle.
Having a handheld showerhead within easy reach from a seated position is perfect for your family members who have muscle issues or injuries that prevent them from standing for a long time.
Shower Control Panel
Want to easily control your shower's pressure or water temperature even if you are in the middle of a bath?
Our team at Bath Planet understands how important it is to have the shower setup to match everyone's needs. We can place the shower control panel in an area users of all heights can reach easily, especially if they have mobility issues.
Easy to Reach Storage
Need a place to get your toiletries without having to go out of the bathroom? We have a catalog of beautiful storage closets and cabinets where you can place your towels, clothes, and toiletries. We can put storage in key areas where you can reach your toiletries easily yet still keep them out of your children's reach.
Anti-Scalding Device
Don't get scorched just because someone in your house flushes the toilet or turns on the dishwasher. Bath Planet can install an anti-scalding valve to protect you from getting burnt should the cold water pressure drop suddenly causing a rapid rise in water temperature.
Non-Slip Shower Flooring
Since soap and water can make showers slippery, we install non-slip flooring in your new shower. These non-slip floors will help prevent accidents, which can lead to serious injury.
Our non-slip flooring comes in various different textures, sizes, colors, and designs to fit your shower space and your style.
Adjustable Lighting
Want the option to adjust the lighting in your shower area? Bath Planet can install adjustable lighting fixtures that can be modified easily depending on the user's preferences. We also make sure these lights are waterproof to prevent electric shock and other safety concerns.
Mirrors
Mirrors are essential bathroom accessories, but moisture can sometimes cause problems for them. Since moisture most often tends to collect near your shower and bath area where steam is produced, we can install these mirrors farther away where moisture doesn't develop as easily.
Heat Lamps
For a luxurious shower experience, we also can include the installation of heat lamps in our Paradise shower installation service.
Stepping out of the shower doesn't have to lead to a chill. Heat lamps can help you regulate the temperature of your bathroom and the shower area to keep you comfortable.
Some of our heat lamps also have variable brightness settings, so you can brighten or dim the lights in your bathroom along with warming the temperature to suit your mood whether you need a bright, brisk morning pick-me-up or a warm, relaxing evening wind-down.
Call Bath Planet at (702) 829-5598 for your Free Consultation with a Shower Installation Expert!
Let's Talk Now – Free Consultation
If you want the best Paradise shower installation project to go well, you should approach a company that would take all your tastes and needs into account.
At Bath Planet, you don't have to worry because we make sure your requirements, preferences, and budget are considered before showing you the shower installation setup that works well for you. Once you approve of our proposal, our team will immediately go to your home and get everything done within three days so you can enjoy your new shower right away.
Call Bath Planet at (702) 829-5598 for your Free Consultation with a Shower Installation Expert!